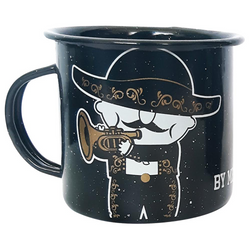 Pocillo Mariachi El - Enamel Mug 12 oz.
TAKE THEM ANYWHERE - coffee mug is perfect for camping, tailgating, and picnics, share it with your special someone, give it as a gift for the outdoor lover or even for a Mexican theme party. The size of these mugs is perfect for a normal cup of coffee or any drink. T

hey may fall but they wont break if it lands on a soft surface like grass, even hard surfaces will just scratch them, they combine ceramics with metal as they are made of traditional enamel called peltre.

EASY TO CLEAN AND STURDY - dishwasher safe. Double-coated enamel.

Can be set on direct fire but is not microwave safe!